The Ghost and Molly McGee[1] (previously named The Curse of Molly McGee) is an upcoming animated buddy comedy, created by Bill Motz and Bob Roth, and is currently scheduled to premiere on Disney Channel in Early 2021.[1]
Premise
Teen optimist Molly McGee lives to make the world a better place, fix what has gone wrong, and spread joy! Meanwhile, cantankerous ghost Scratch lives to make the world a worse place, break what has gone right, and spread misery. When a curse from Scratch backfires, he finds himself forever bound to Molly. Despite that, Scratch and Molly form an unlikely friendship that guides each of them through the ups and downs of their respective worlds!
Press Information
News of the series was first announced on July 23, 2019, by senior vice president Animation Strategy, Meredith Roberts Quill. Emmy® Award-winning duo Bill Motz and Bob Roth will serve as executive producers with Emmy Award-winner Steve Loter.
Roberts said, "Our studio is bustling as we continue to bolster our development slate of projects across multiple platforms. We are delighted to embark on this journey with Bill, Bob, and Steve with 'The Curse of Molly McGee,' one of many projects we are excited to see come to life for kids and families to enjoy. Along with the numerous projects in development from this group of incredibly talented creators, we are poised to lead Disney's TV animation legacy of inspired storytelling and beloved characters into the future."
On September 24, 2020, Bill Motz revealed that the series, originally titled "The Curse of Molly McGee", was renamed to "The Ghost and Molly McGee", saying that the series is about the relationship between Molly and Scratch, and thought that the new title would reflect that better.[2]
Cast
Main cast
Gallery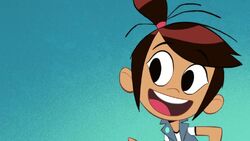 Click here to view the gallery.
Videos
External links
References
Community content is available under
CC-BY-SA
unless otherwise noted.